Turning 30 is probably the most important birthday in the skincare universe. Although age is just a number, a skincare routine in your 30s is the starting point for the rest of your skincare life. Changes to your skin over the next decade will be real – just how real will depend on the action you take over these next few years.
We all know what it's like to be 20-something – sleeping in your make-up, forgetting your moisturiser, even (gasp) neglecting your sunscreen… the glorious freedom. But your 30s are actually going to be a brilliant time for your skin. No, really!
You're still young enough that drastic action isn't needed, and damage that's accrued so far can still be reversed. Even those with the most decadent, hedonistic, cleansing-wipe filled youths can still be saved! 
And here are three ways:
Get Comfy With Your '-Ols' 
Get ready for a mini dermatology lesson – and get rid of generic anti-ageing moisturisers. They're doing you no good! If it doesn't have an –ol at the end, it's getting you nowhere. Top of these charts is retinol – a super concentrated form of Vitamin A, and the only anti-ageing formula scientifically proven to work.
Two signs of ageing you might start to see in your 30s include loss of collagen (gives your skin firmness and suppleness), and fine lines.
Retinol is a fascinating little ingredient – countless studies have proven its power to reverse signs of ageing by boosting collagen production and enabling water retention. It can even skin tone, diminish wrinkles, and boost the elasticity of your skin. 
Retinol is powerful stuff (fangirling here), so you need to introduce this little wonder with care. As a chemical exfoliant, it actually works by irritating the skin slightly, encouraging it to generate new cells.
Start with a low concentration – 0.25% should be okay for most skin types, but you can go lower if you're particularly sensitive.
Use the rule of 3: apply it 3 days a week for 3 weeks, and if your skin feels fine, build up to daily use. Despite its effectiveness, this 0.5% retinol solution in squalene by The Ordinary is just £5.50, and should last a while, as you only need a tiny amount.
Important: retinoids increase your sensitivity to the sun, so only use it in the evenings, wear sunscreen every day or wear a sunhat.
Prevention Is Better Than Cure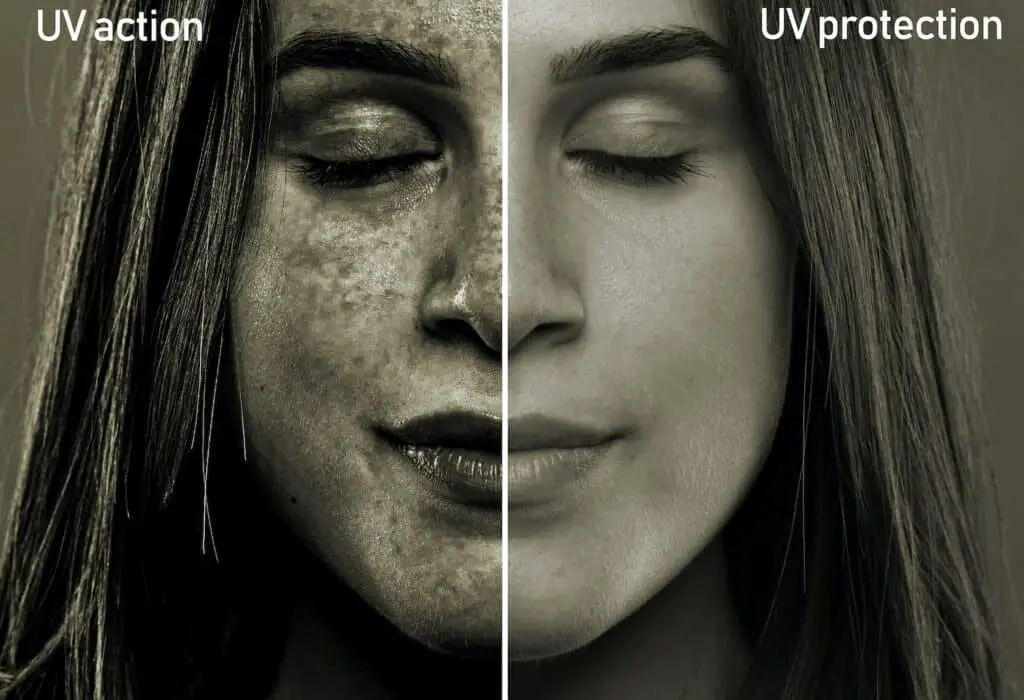 We all know we should be wearing sunscreen to prevent photodamage. But did you know you should be wearing SPF 50, every day, even in winter, and even inside?!
Sounds crazy, but there's a good reason why. Few people know this, but there are two types of sun damage. UVB rays cause sunburn; UVA rays penetrate much deeper, affecting the cellular structures that keep our skin firm and bouncy, like collagen and elastin.
When we're inside, we're shielded from UVB rays. But UVA rays are not filtered out by glass.  My kitchen window above the sink lets a lot of sunlight in and sunscreen is something I have incorporated into my skincare routine.
If you sit near a window at work, or spend a lot of time driving, you need to make sunscreen an essential part of your skin care routine, in all weathers, and all environments.
This is probably the best thing you can do for your skin, and that's straight from the dermatologist's mouth. 
The easy option is to look for moisturisers that contain an SPF, but this comes with a couple of problems. First – the purpose of moisturiser is to absorb, whereas sunscreen can only work when sitting on the skin. Second, SPF moisturisers tend to have low factors like 10 or 15, which get even further diluted when applied thinly across your face.
Dermatologists recommend using a pure SPF 30 sunscreen at the very minimum, after your moisturiser, but before your make up.
Insider tip: studies have shown that protecting effects are boosted considerably by Vitamins C and E.
Getting enough of these nutrients will compound your sunscreen's effects, making that extra step in your morning routine worth it. Buy a multivitamin at your local supermarket, they always have deals on!
Btw, that's me on the left after a holiday to the Algarve. Not my proudest moment.
Moving on, the above, of course, leads us nicely to…
C Is For Care
Not to sound too much like your mum, but there's a reason we're told to eat our fruit and veg: foods like citrus fruits, leafy greens, strawberries, and broccoli are rich in Vitamin C.
Studies have shown that Vitamin C plays an even more important role than previously thought in our skin health. It's a powerful antioxidant, directly mediates sun damage, and stimulates collagen. Who knew?
Eating Vitamin C-rich foods nourishes our body, but the outer reaches of our skin are not supplied by the same blood vessels that deliver nutrients to our cells. Our 'epidermis' relies on diffusion from the dermis below. In other words, it needs a little extra help, and this is where Vitamin C-based moisturisers come in. 
How Do I Add it To My Routine?
The easiest way to sneak a Vit C boost into your skin plan is to find Vitamin C skincare products. How about a Vitamin C infused moisturiser? Moisturisers always come after cleansers, and before 'ols'.
Apply it morning and night (crucial), adding retinol only in the evenings. This way, it can act as a buffer, mitigating any initial irritation caused by retinols. Alternatively, try it in serum form with Face Theory's Regena 20% serum. 
What about you? Are you ready for your 30s? What products are you using in your 30s?